PnP Bottles (bit of a weird name for a grocery app, I suspect they bought an existing app off someone else) is similar to the Checkers Sixty60 grocery ordering app, in that you can order online. Similarly to the Checkers Sixty60 ordering app, its also App only. Bleh!

PnP want a whole slew more personal info for sign up ahead of ordering, in comparison to the Checkers60 App though.
Score -1 for that.
There was also no indication of what they want to do with all my info.

I'm not stupid, its going to be sold to 3rd party marketers. A privacy policy should be provided _always_, especially if you ask for more than name/ address and phone number.
As PnP has a fairly substantive privacy policy published here – https://www.pnp.co.za/privacy-policy, I have emailed PnP's Information Officer and asked them if this policy also applies to their Bottle App.
I will update this post when I have a reply. Regardless, currently it feels a little more intrusive than their competition.
Onto the App.
This is definitely not as well polished as the Sixty60 one.
There are a few UI issues (mostly related to the keyboard not dropping away when necessary, and scroll views not showing the full window).

Searching for items in the app is a little bit iffy. Results are a lot less relevant than in the Checkers60 app, and the selection of items seems a lot more limited. They do have specials in the app though.
Plus side – I can order a lot more groceries than the checkers app. There doesn't seem to be an obvious mechanism for items that can't be fulfilled, and doesn't seem to be a limit on order size unlike the Sixy60 app.

Down side – delivery seems to be scheduled, and a lot slower – my order made at 10:40 can only be scheduled delivered between 2-3pm.
Firs delivery was actually made at 12:51pm.
This is over an hour earlier than the app delivery time –
While I appreciate an early order, this was slightly inconvenient, as I was planning to be out, and luckily happened to be home still.
Delivery times should be as scheduled, so you can plan around that.
Would be better to have an sms if you are going to deliver earlier (or later) than arranged.
The delivery unfortunately only included 3 bags of items – apparently the driver has to make 4 trips for all the items I ordered. Guess PnP need to do the same optimization that Sixty60 did (and limit orders), or use a larger vehicle for deliveries.
First issue – one item arrived unsealed / opened. Definitely a no-no, even more so in Covid times!

Driver was away before I discovered that, but as he's on his way back 3 more times, I'll see if he can return it with him.
I have gone through the submit a problem on the app (its prominently displayed on the order at least, unlike on Checkers60), but it says you may need to wait 2hrs! for a reply.
I think some points can be deducted for that.
To be honest, I'd want a reply immediately if there is an issue, and its during delivery hours.


Approximately twenty minutes later, the next partial delivery was made.
Some good news – my motorbike driver has accepted the opened item, and will return / swap it. (see above image)
This time around, more bottles of sparkling water delivered (I ordered 48 in total). Driver has delivered a few bags worth this time



As an aside – not sure why they didn't use a tuk-tuk, I've seen them before in the area.

I also feel quite guilty for the driver now as he has to make a bunch of trips, so intend to tip well (or at least more than I originally planned to).

Gratuitous driver shot –

Note the lack of branding on the delivery vehicle – this is in stark comparison to say Checkers, who have obvious branding. I would appreciate some sort of lanyard / identity card as well, so you can verify that the driver is indeed from the store before letting them in.

A subsequent 20 minutes later, the next delivery for the same order arrived (at 13:51pm)
What looks like the final delivery of everything has arrived.
One downside the PnP bags things came in are rather unusable, as they are taped together, and need to be ripped apart. I now have a ton more plastic waste.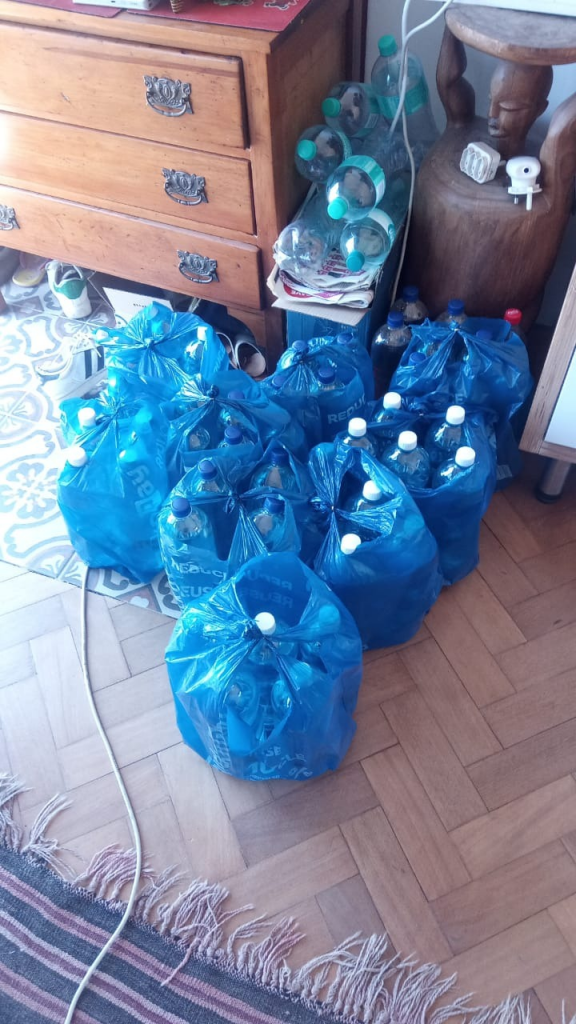 This delivery unfortunately, has a completely different delivery driver, so I can't tip the guy 🙁
Good news though, the opened package has been replaced (although somewhat gratuitously, that was sealed in yet another separate plastic bag).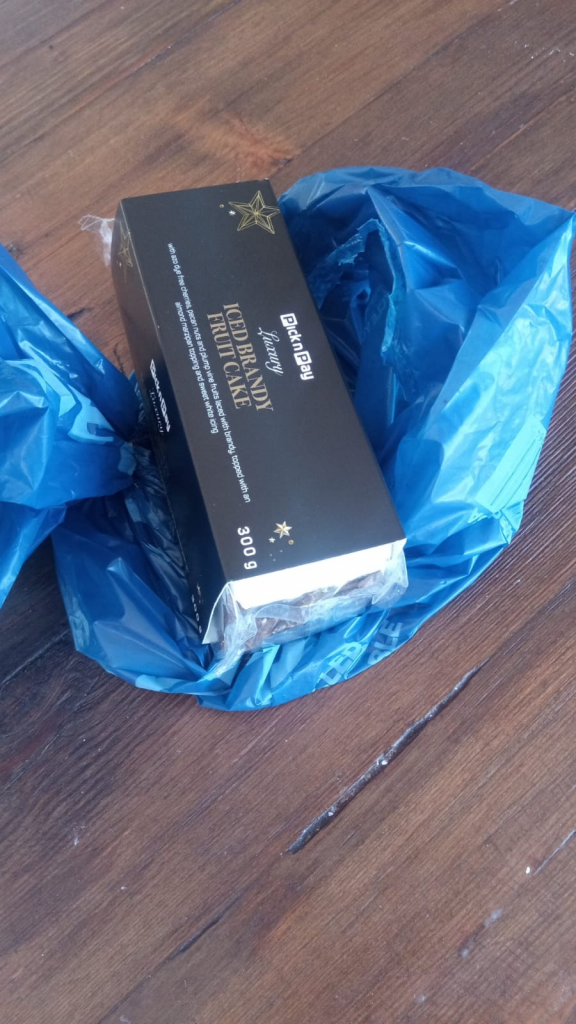 I finally have what looks to be everything, and let the driver head back.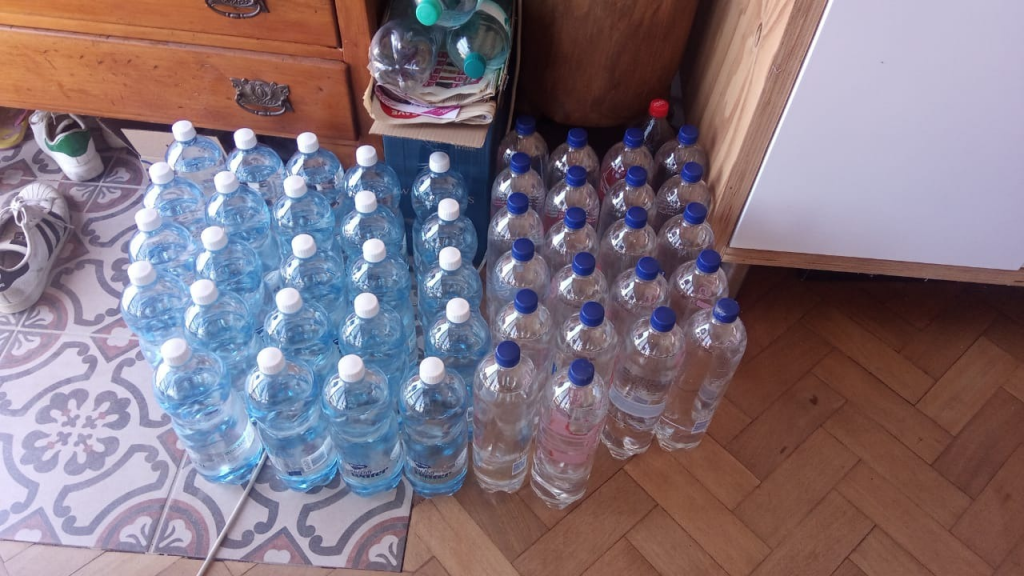 Well, I thought I did… I'm actually missing one of the bottles of sparkling water I ordered.
I have noted that on the App "Chat to us" in case of issues button, and am still waiting on a response.

Literally as I wrote that, I got a ping back from the app, and a response.
Apparently out of stock, and they'll refund me.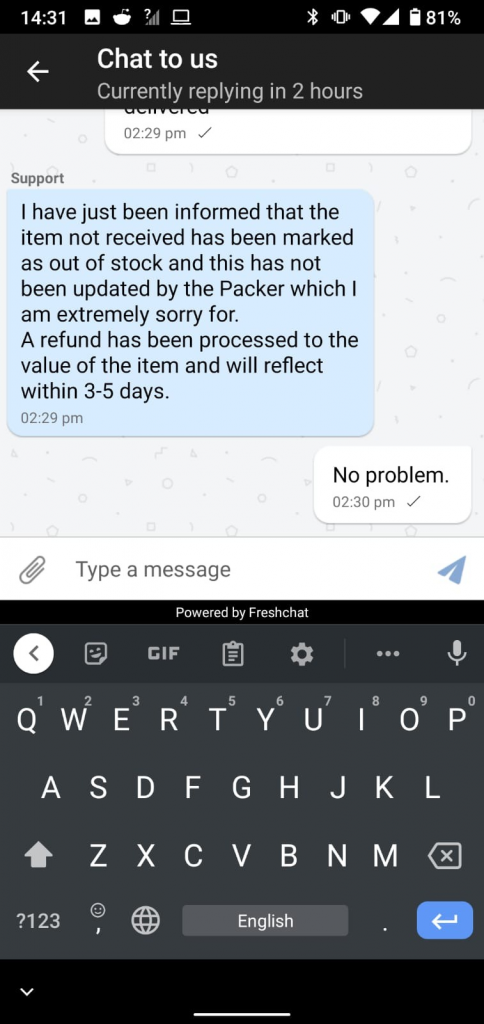 Overall, my experience with PnP Bottles has been satisfactory, although much like the Sixty60 App, they really need to resolve or better work through their process management.

The Bottles App is buggy though, aside from the UI issues, I could repeatedly get it to crash by clicking the "Share Bottles by PnP, get R50 off!" link on my order detail screen.
I assume that they'll fix those minor App issues though.

For the amount of stuff ordered, R35 for delivery was excellent value. Saved me going to the shops during Covid season, especially seeing as I could order a months worth of sparkling water at one time.

That said, the same exact issues that Sixty60 have, also plagues PnP Bottles.

– You need to check the order carefully on delivery to make sure of any issues.
– The drivers need to be better educated as to how to process returns or missing items.
– While the app has a better placed Issue with your Order – "Contact us" button, the timeframe for replies should be much faster. 2 hours for a reply is unacceptable during delivery hours.

My Score – 3 / 5

I've deducted 1/2 points each for –
– The buggy app
– For the excessive information required to register / privacy concerns.
– The drivers not wearing any sort of identification or proof that they're a PnP Bottles delivery.
– …and for the delivery time not meeting the scheduled appointment time.

I'll probably use this again, purely because I found the value in getting so many bottles of spring water delivered was worth it to me. I often go to the local PnP and find no stock.

Our local PnP (Longbeach Mall) is awful to shop at, I vowed never to go back after a previous bad experience [staff attitude & literal rudeness at checkout, bad service, and a manager who didn't care / brushed me off when I reported the cashier and the packer].
I generally shop at other stores, or head to the Simons Town PnP branch, which although smaller, is a lot better.